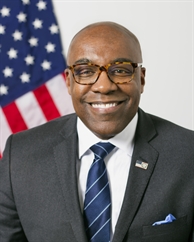 Attorney General Kwame Raoul
State of Illinois
Wednesday, Sep 13, 2023
Doors Open at 12:00 pm / Event Begins at 12:30 pm
Location
Maggiano's Banquets
111 W. Grand Avenue
Chicago, IL 60654
Map and directions
*please note later start time*
Speaker
Attorney General Kwame Raoul
Illinois Attorney General Kwame Raoul, born in Chicago to Haitian immigrants, brings a lifetime of legal experience and advocacy to the office. He was sworn in as Illinois' 42nd Attorney General in 2019 and took the oath to serve a second term on January 9, 2023.
Attorney General Raoul launched his legal career as a Cook County prosecutor and went on to be a partner at two national corporate law firms. He also served as an Illinois State Senator for 14 years, leading to this "dream job."
The Attorney General has initiated legislation to counter the long-term effects of violent crime and to support survivors. He created the first-of-its-kind task force to take down Organized Retail Crime networks. He protects children from online predators as leader of the Illinois Internet Crimes Against Children Taskforce.
Attorney General Raoul partners with federal law enforcement to prevent mass shootings in schools and places of worship, fight violent crime, and to investigate fraud and public corruption. He led a collaboration with state and local law enforcement that brought about an improved system to foster professionalism, accountability, and transparency for law enforcement officers statewide.
Attorney General Raoul also safeguards Illinois consumers. The office manages tens of thousands of consumer fraud complaints, saving residents millions through litigation and mediation each year. He holds accountable the industries that threaten public health with opioids, e-cigarettes, and environmental pollution. He continues to fight against scams related to home repairs, auto sales, mortgages, identity theft, and student lending.
The Attorney General regularly coordinates his advocacy efforts with other state attorneys general to defend access to quality healthcare and reproductive health services for all, protect our natural resources, fight for just immigration policies, curb gun violence, and to uphold civil rights for all individuals.
« Back to past events
Upcoming events
Chief Executive Officer
Chicago Public Schools
Tuesday, Dec 5, 2023
Doors Open at 11:30 am / Event Begins at 12:00 pm
moderated by Andrew Broy
Macke Raymond, Constance Jones and Greg White
Tuesday, Dec 12, 2023
Doors Open at 11:30 am / Event Begins at 12:00 pm
City Club of Chicago event tickets are non-refundable. Tickets are transferrable.
Our venues are wheelchair accessible. To request any other accessibility, please contact Amanda Agosti at aagosti@cityclub-chicago.org