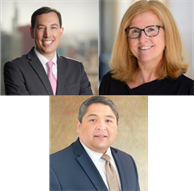 The Physician Burnout Crisis: Barriers and Opportunities for a Better Chicago Health System
Dr. Jesse Ehrenfeld, Dr. Marianne Green and Israel Rocha Jr.
Wednesday, Sep 6, 2023
Doors Open at 11:30 am / Event Begins at 12:00 pm
Location
Maggiano's Banquets
111 W. Grand Avenue
Chicago, IL 60654
Map and directions
The impending physician shortage has clear repercussions for patients and our health system at large, both in the Chicago region and across the country. If patients already wait a month or more to see a physician specialist, what will access to care look like with a projected 124,000 fewer physicians by the year 2034?
American Medical Association President Dr. Jesse Ehrenfeld joins Vice Dean of Education at the Northwestern University Feinberg School of Medicine Dr. Marianne Green and Cook County Health CEO Israel Rocha Jr. will examine the tenuous state of health care today, the stakes for patients, and what equitable solutions need to happen to bolster our physician and health care workforce to avert a true health crisis over the next decade.
Speakers
Dr. Jesse M. Ehrenfeld
Jesse M. Ehrenfeld, MD, MPH, was inaugurated as president of the American Medical Association in June 2023. He is a senior associate dean, tenured professor of anesthesiology and director of the "Advancing a Healthier Wisconsin Endowment" at the Medical College of Wisconsin. He was elected to the American Medical Association Board of Trustees in 2014.
Dr. Ehrenfeld divides his time among clinical practice, teaching, research and directing a $560-million statewide health philanthropy. He also has an appointment as an adjunct professor of anesthesiology and health policy at Vanderbilt University in Nashville, Tenn., and as an adjunct professor of surgery at the Uniformed Services University of the Health Sciences in Bethesda, Md. Dr. Ehrenfeld is a consultant to the World Health Organization Digital Health Technical Advisory Group and previously served as co-chair of the Navy Surgeon General's Taskforce on Personalized and Digital Medicine and as a special advisor to the 20th U.S. Surgeon General.
Dr. Ehrenfeld's research, which focuses on understanding how information technology can improve surgical safety and patient outcomes. He currently serves on the National Academy of Medicine's Health Policy Fellowships and Leadership Programs Advisory Committee.
Upon his inauguration, Dr. Ehrenfeld made AMA history as the first openly gay president of the organization. For the past two decades, he has been a nationally recognized advocate for lesbian, gay, bisexual, transgender and queer (LGBTQ+) individuals. In 2018, in recognition of his outstanding research contributions, he received the inaugural Sexual and Gender Minority Research Investigator Award from the director of the NIH.
Born in Wilmington, Del., Dr. Ehrenfeld is a graduate of Phillips Academy, Haverford College, the University of Chicago Pritzker School of Medicine and the Harvard School of Public Health. He completed an internship in internal medicine, a residency in anesthesiology and a research informatics fellowship at the Massachusetts General Hospital. Board-certified in both anesthesiology and clinical informatics, Dr. Ehrenfeld is a fellow of the American Society of Anesthesiologists and the American Medical Informatics Association.
A combat veteran who deployed to Afghanistan during both Operation Enduring Freedom and Resolute Support Mission, Dr. Ehrenfeld, for his work in capturing and supporting the lives of LGBTQ+ people, was recognized in 2015 with a White House News Photographers Association award and, in 2016, with an Emmy nomination. Dr. Ehrenfeld and his husband, Judd Taback, have two children.
Dr. Marianne Green
Marianne Green is vice dean for education at the Northwestern University Feinberg School of Medicine and the Raymond H. Curry MD Professor of Medical Education, and professor of medicine. She oversees the undergraduate, graduate and continuing medical education programs of the School of Medicine.
Dr. Green's academic interests are in competency based medical education, specifically in the use of portfolios and narrative for competency assessment. She has received multiple teaching awards including the American Association of Medical Colleges Alpha Omega Alpha Robert J. Glaser distinguished teacher award. In addition to her academic roles, Dr. Green remains clinically active, providing patient care in the outpatient General Internal Medicine Clinic.
Dr. Green serves as the immediate past Chair of the American Board of Internal Medicine (ABIM)'s Board of Directors and is a current trustee of the American Board of Internal Medicine Foundation. She previously served as Council Director on the ABIM Council.
She received her medical degree from the University of Illinois, Chicago School of Medicine and went on to complete her internship and residency at Beth Israel Hospital, Harvard Medical School.
Israel Rocha Jr.
Israel Rocha Jr. joined Cook County Health (CCH) as Chief Executive Officer in December 2020. CCH has a storied 185 year legacy of caring for all patients, regardless of ability to pay or immigration status. Today it includes two hospitals, including the Midwest's largest trauma center, more than a dozen community health centers, Cermak Health Services- the medical provider at the Cook County Jail and Juvenile Temporary Detention Center, the Cook County Department of Public Health and CountyCare, a Medicaid managed care plan. The health system serves more than 600,000 individuals each year and has a $4 billion budget.
At CCH, Mr. Rocha quickly established himself as a hands-on, visionary leader who motivated and guided his team in the middle of the COVID-19 pandemic, the world's biggest public health crisis in a century.
Committed throughout his career to social justice and health equity, Mr. Rocha launched the Office of Equity & Inclusion at CCH in early 2021 to bring together disparate parts of the health system in a collaborative way to affect real change. This effort, coupled with a commitment to increase services and improve facilities at the system's Provident Hospital, and to continue to improve the quality of care delivered across Cook County Health, have been his key priorities.
In April 2022, Mr. Rocha announced the establishment of The Change Institute of Cook County Health, a think- and do- tank designed to address health equity, improve patient outcomes including the prevention of premature death. The Change Institute will convene a broad spectrum of stakeholders from health care, business, academia, and government to tackle diseases like cancer, diabetes, cancer and stroke that disproportionally impact the health and livelihoods of minority communities. Mr. Rocha's aim is to leverage all available resources to address these disease states with the same force and coordination demonstrated during the COVID-19 pandemic.
As CCH CEO, Mr. Rocha serves as on the Boards of Directors of the Illinois Health & Hospitals Association and America's Essential Hospitals, as well as the American Hospital Association Region V Policy Board. He also serves as a member of the National Advisory Council (NAC) subcommittee for the Agency for Healthcare Research and Quality (AHRQ) in the U.S. Department of Health and Human Services.
Mr. Rocha came to CCH after serving as the CEO of NYC Health + Hospitals Elmhurst and Queens hospitals. NYC Health + Hospitals is the largest public health system in the U.S. with a combined annual budget of more than $8 billion.
« Back to past events
Upcoming events
Chief Executive Officer
Chicago Public Schools
Tuesday, Dec 5, 2023
Doors Open at 11:30 am / Event Begins at 12:00 pm
moderated by Andrew Broy
Macke Raymond, Constance Jones and Greg White
Tuesday, Dec 12, 2023
Doors Open at 11:30 am / Event Begins at 12:00 pm
City Club of Chicago event tickets are non-refundable. Tickets are transferrable.
Our venues are wheelchair accessible. To request any other accessibility, please contact Amanda Agosti at aagosti@cityclub-chicago.org