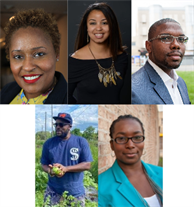 Englewood Economics: How community and capital are coming together to drive resurgence
moderated by Ja'Net Defell
Cecile DeMello, Deon Lucas, Anton Seals Jr., Felicia Slaton-Young
Thursday, Sep 7, 2023
Doors Open at 11:30 am / Event Begins at 12:00 pm
Location
Maggiano's Banquets
111 W. Grand Avenue
Chicago, IL 60654
Map and directions
Englewood is one of the most innovative communities in the city. Undiscovered talent and growth opportunities abound, as evidenced by the Quality of Life Initiative (QLI) that is underway with support from local leaders, community partners, and philanthropic supporters. This effort has fostered more than $100 million in investments expected in the next few years.
The collaborative partnerships around major projects such as the reopening of the Racine Green Line Station and shared ownership models such as E.G. Woode and the Englewood Community Land Trust are just two of the many examples of the neighborhood's vitality.
Join us to hear more about the upcoming developments in Englewood from a panel featuring Cecile DeMello, Executive Director, Teamwork Englewood, Deon Lucas, President, E.G. Woode, Anton Seals Jr, Executive Director, Grow Greater Englewood, Felicia Slaton-Young, Greater Englewood Chamber of Commerce and moderator Ja'Net Defell, President & CEO, Community Desk Chicago. These local leaders who are laser-focused on leveraging Englewood's creativity and resilience to increase local ownership, wealth and economic development.
Speakers
Ja'Net Defell
Ja'Net Defell (Ja-Nay De-Fell) is the President and CEO of Community Desk Chicago (The Desk), a community development intermediary leveraging relationships, aggregating risk-tolerant capital and working intentionally in underserved communities. The Desk's work aims to shift power dynamics and create a path to advance economic prosperity through community wealth-building and small-scale infill commercial real estate development. Under Ja'Net's leadership, The Desk launched a $3 million program focused on comprehensive capacity-building for neighborhood-based real estate development. Building wealth, The Desk helped to formalize a city-wide effort around shared ownership models for commercial developments in communities. More than 60 projects have received technical assistance and capital access support with $8 million in gap funding secured for small-scale development projects on the south and west sides of Chicago.
Ja'Net has more than 20 years of management consulting, urban planning and real estate development experience. Prior to leading The Desk, Ja'Net served as a real estate subject matter expert for a federal agency and a real estate consultant and developer at a Community Development Financial Institution (CDFI), where she managed a portfolio of nonprofit community-based real estate projects in both Chicago and Detroit. In addition to her direct real estate experience, Ja'Net worked with the philanthropic community in the City of Detroit to build capacity related to facilities management and planning and supported the development of city-wide initiatives to improve facility conditions in low-income and underserved communities. Ja'Net also has experience managing commercial corridors for an inner ring suburb of the City of Chicago.
Ja'Net holds a Master of Urban Planning and Policy degree from the University of Illinois at Chicago and a Bachelor of Business Administration (BBA) degree from the University of Michigan. She is a Fulcrum Fellow and a Field Catalyst with the Center for Community Investment, a certified Project Management Professional (PMP) and a LEED Green Associate.
Cecile DeMello
Cecile DeMello is the Executive Director of Teamwork Englewood, the lead agency implementing the Englewood Quality of Life Initiative (QLI).
Cecile has been at the forefront of local reform efforts, leading legislative and policy changes for low income communities of color. She holds a Masters in Not for Profit Management and a Masters in Urban Planning and Policy from the University of Illinois at Chicago.
As Executive Director of Teamwork Englewood, a community based organization that works to improve the quality of life for Englewood residents. The organization offers youth programming, support for residents with backgrounds, parent leadership, and job support and wrap-around services for residents and a number of programs through the Englewood Quality of Life Plan. Since coming on board Cecile has tripled the organization's budget, increased programming, expanded the organization's footprint in the community with multiple sites, and leading in crisis and pandemic response for the community.
Cecile was the Co-Executive Director of Blocks Together a community organizing and development organization on Chicago's Westside for over 10 years, where she was a part of creating citywide practice change in economic development, school reform, policy accountability and violence prevention. She was a part of organizing millions in local school improvement, bringing over 100 jobs for community residents and youth, passing historic legislation around transparency in facility management for Chicago Public Schools, and reforming public dollar use with community residents for new investment in businesses and youth programming.
Cecile also served as a Community Engagement Specialist for Whole Foods Market working to recruit and support small businesses, developing job training programming, and community health education for the Englewood store. There she created innovative strategies for retail centered community development.
Cecile was born and raised on the Southside of Chicago. She attend Kenwood Academy for high school, and attended Temple University for her Bachelors in communications and journalism. Cecile is a proud wife and mother of three children and Englewood resident.
Deon Lucas
Deon Lucas is a licensed architect and currently serves as the Director of Design for Beehyyve and is a Co-Founder of E.G. Woode. He is responsible for establishing both organizations creative strategy, and developing budgets & schedules for key development projects. His roles also requires him to directly mentor and supervise creative teams while challenging and introducing new and innovative methods of creative execution. Deon strives to motivate and influence his creative team to constantly excel in performance and enhance organizational objectives.
Additionally, Deon is a dedicated member of the Residents Association of Greater Englewood (RAGE). He joined RAGE to learn more about Englewood's culture, businesses and entrepreneurial environment, which allowed him to build the foundation for E.G. Woode. Together, RAGE & E.G. Woode have collaborated with a group of entrepreneurs seeking to leverage their "collective independence" by supporting each other's enterprises.
Anton Seals Jr.
L. Anton Seals Jr. is a South Shore Chicago native. Anton is a multidimensional servant leader, organizer, entrepreneur, educator, community connector and Impact
producer.
Anton is the Lead Steward (Executive Director) of Grow Greater Englewood (GGE). GGE transforms vacant city lots into farm businesses, via a network of Black and brown urban farmers. GGE is a social enterprise focusing on building an equitable and resilient local food system that fosters protections of vacant land in divested communities and focuses on connecting those residents with community wealth building opportunities.

Blending his varied interest Seals has consulted with philanthropic, political leadership, corporate, and community based organizations to focus on authentic "equity in action" via community engagement, advocacy/policy and social enterprise development. Seals
also works in the arts and cultural space, producing campaigns for nationally broadcasted documentaries.

In 2019 Seals founded OURS, a vertical Cannabis and Hemp company, Seals is an Asset Based Community Development (ABCD) Institute trainer at DePaul University's Steans Center.

Anton is a 2018 Next City Vanguard Fellow and 2010 German Marshall Fellow. Anton is Board Chair of the Woods Fund of Chicago and also serves on the board of
Chicago Food Policy Action Council, Friends of the Park, and is Chair The South Shore Works Planning Preservation Coalition.
Felicia Slaton-Young
Felicia Slaton-Young is a founding member and Executive Director of the Greater Englewood Chamber of Commerce and GE Chamber Foundation, two organizations with a mission to transform Greater Englewood into a popular commercial and retail destination by advising, developing and showcasing its established businesses and acting as a comprehensive economic development partner.
Felicia Slaton-Young is the founder and owner of Belle Lucre, LLC, a financial advisory firm based in Chicago, Illinois. She has more than 25 years of experience in the financial services industry and more than 15 years as a financial advisor. She holds a BA in Business and an MBA from Webster University.
Felicia is currently a board member of St. Bernard Hospital and Health Care Centers' mission calls us to care for the sick and promote the health of the residents in the community while witnessing the Christian values of respect, dignity, caring and compassion for all persons.
Relationships are key and Felicia believes building and developing strong have allowed her to grow and sustain her business and build lasting relationships between businesses and community.
« Back to past events
Upcoming events
Chief Executive Officer
Chicago Public Schools
Tuesday, Dec 5, 2023
Doors Open at 11:30 am / Event Begins at 12:00 pm
moderated by Andrew Broy
Macke Raymond, Constance Jones and Greg White
Tuesday, Dec 12, 2023
Doors Open at 11:30 am / Event Begins at 12:00 pm
City Club of Chicago event tickets are non-refundable. Tickets are transferrable.
Our venues are wheelchair accessible. To request any other accessibility, please contact Amanda Agosti at aagosti@cityclub-chicago.org