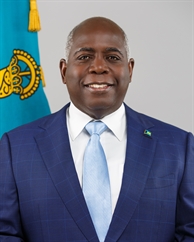 The Honorable Philip Edward 'Brave' Davis, KC
Prime Minister
Commonwealth of the Bahamas
Monday, Sep 11, 2023
Doors Open at 11:30 am / Event Begins at 12:00 pm
Location
Maggiano's Banquets
111 W. Grand Avenue
Chicago, IL 60654
Map and directions
Speaker
The Honorable Philip Edward 'Brave' Davis, KC
Philip Edward 'Brave' Davis, KC was elected Prime Minister and Minister of Finance of the Commonwealth of the Bahamas in 2021. Prior to becoming Prime Minister, Davis was the leader of the Progressive Liberal Party and Member of Parliament for Cat Island, Rum Cay, and San Salvador.
During the last administration of the Progressive Liberal Party, from 2012-2017, Prime Minister Davis ran the Ministry of Works. His portfolio covered everything relating to the physical infrastructure of The Bahamas, as well as oversight of Bahamasair, BEC, and the Water & Sewerage Corporation. During his first term in parliament, he chaired the National Insurance Board where he introduced numerous fundamental reforms to provide support of thousands of Bahamians.
Prime Minister Davis is known both locally and internationally as an acclaimed corporate and human rights lawyer, a highly distinguished legal educator, a passionate sportsperson, a sponsor of many sporting activities, and a Toastmaster.
Prime Minister Davis received his early education at the Old Bight All Age School in Cat Island, the Eastern Junior & Senior Schools, and St. John's College in New Providence. After a brief stint in banking, he articled as a Law Clerk in the Law Chambers of Wallace-Whitfield & Barnwell.
A leading litigation lawyer, Prime Minister Davis has an impressive record in the Courts of Appeal, with perhaps more appearances before the UK Privy Council than any other Bahamian lawyer.
His appointment as Queen's Counsel, the highest possible honour which is conferred on those practicing law in the English legal system anywhere in the world, came in recognition of both his highly successful legal practice, but also his contribution to legal education. Since 2002, he has been Managing Partner of the law firm which bears his name: Davis & Co.
As a former Member of the Council of Legal Education for CARICOM, he has made an unprecedented contribution to legal education in the Caribbean region. Prime Minister Davis twice served as Vice-President of the Bar Council before becoming President of The Bahamas Bar Association in 1995.
Prime Minister Davis is married to Ann-Marie Davis. His six children inherited their father's passion for sports, hard work, and patriotism, going on to represent The Bahamas at the CARIFTA Games.
« Back to past events
Upcoming events
Chief Executive Officer
Chicago Public Schools
Tuesday, Dec 5, 2023
Doors Open at 11:30 am / Event Begins at 12:00 pm
moderated by Andrew Broy
Macke Raymond, Constance Jones and Greg White
Tuesday, Dec 12, 2023
Doors Open at 11:30 am / Event Begins at 12:00 pm
City Club of Chicago event tickets are non-refundable. Tickets are transferrable.
Our venues are wheelchair accessible. To request any other accessibility, please contact Amanda Agosti at aagosti@cityclub-chicago.org