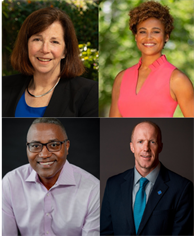 Chicago Charter Schools: What Recent Research Reveals about Charter School Performance
moderated by Andrew Broy
Macke Raymond, Constance Jones and Greg White
Tuesday, Dec 12, 2023
Doors Open at 11:30 am / Event Begins at 12:00 pm
Save to calendar
$85.00 Non-Member Ticket (Join now!)
$65.00 Member Ticket
$65.00 Member Guest Ticket (Join now!)
$995.00 Full Sponsor Table (10 seats)
$650.00 Half Sponsor Table (5 seats)
Register now Seating is limited
Location
Maggiano's Banquets
111 W. Grand Avenue
Chicago, IL 60654
Map and directions
Join us for a presentation from Stanford University's Center for Research on Education Outcomes (CREDO) Director Macke Raymond, who will present the latest findings on charter school performance in Illinois. The presentation will be followed by a moderated conversation where charter leaders Constance Jones (CEO, Noble Schools) and Greg White (CEO, LEARN) will discuss how their schools are closing opportunity gaps in some of Chicago's most economically disadvantaged neighborhoods. Andrew Broy, President of the Illinois Network of Charter Schools, will moderate.
Speakers
Andrew Broy
Andrew is an advocate. He serves as President of the Illinois Network of Charter Schools (INCS), a statewide advocacy and charter school support organization serving 145 charter campuses in Illinois that collectively educate more than 65,000 public school students. During his time at INCS, the number of charter schools in Illinois has doubled and the organization has dramatically expanded its electoral capacity to engage in political races across Illinois. INCS has been lead sponsor on several major policy wins, including a 2022 law that established Illinois' first ever statewide per pupil facilities fund for all charter public schools. This win comes on the heels of several other substantial legislative victories over the years, including a new charter funding formula that guarantees equal operational funding to Illinois charter students; a law extending the permissible charter renewal term to ten years for high-performing charter schools; and a provision that tripled the funding available in the state revolving loan program. The funding win alone led to an annual funding increase of $120 million for charter school students. Prior to joining INCS, Andrew was the Associate State Superintendent for the State of Georgia. In that role, Andrew helped craft Georgia's winning Race to the Top application and worked with legislative leadership to author multiple bills enacted into law. Andrew also worked as a civil rights litigator in Atlanta for many years after beginning his career as a high school teacher.
Constance Jones
In November 2018, Constance Jones became the Chief Executive Officer of the Noble Network of Charter Schools, Illinois' largest charter school network, and is the first African American and first female to hold that position. Connected through community groups and board positions across Chicago, she quickly became a widely influential and trusted voice within the nation's third-largest school district.
As Noble's CEO, Constance oversees the strategy, operations, and academic results of 17 public charter schools. With an operating budget of $235 million, Noble serves more than 12,000 students and their families and 26,000 alumni. Noble students represent the diversity of Chicago, hailing from all 77 community areas, 99% students of color and 93% from under-resourced communities, and nearly 80% are first-generation college students.
Prior to being CEO of Noble Schools, Constance held progressively responsible roles in program evaluation and development at KIPP Foundation, the foundation supporting KIPP Schools, the largest public charter school network in the U.S., with 280 schools and 175,000 students and alumni.
Constance is an alumna of Leadership Greater Chicago, the IMPACT Leadership Development Program with the Chicago Urban League and The University of Chicago, and the Aspen Institute Pahara Fellowship. Constance is the founding Vice Chair of Hope Chicago, a non-profit funding post-secondary scholarships and non-tuition costs for Chicago Public School graduates and their parents. Constance sits on the national board of the Charter School Growth Fund, the first and only portfolio member to join. Constance has an MBA from Harvard Business School and a bachelor of science in business administration from The University of North Carolina at Chapel Hill.
Margaret (Macke) Raymond
Margaret (Macke) Raymond has served as the director of CREDO since its inception. She has steered the group to national prominence as a rigorous and independent source for policy and program analysis. She has done extensive work in public policy and education reform and is currently researching the development of competitive markets and the creation of reliable data on program performance. She also leads CREDO in investigating the effectiveness of public charter schools. Before joining Stanford in 2000, she held faculty positions in the political science and economics departments at the University of Rochester. She also worked for a number of years in the telecommunications industry and was president of Raymond Associates, a private consulting company specializing in public policy research projects and telecommunications policy formulation, from 1985 to 2000.
Gregory White
Gregory A. White is the President & CEO for the LEARN Charter School Network that educates over 4,000 elementary school students in the cities of Chicago, Waukegan, North Chicago and Washington, DC. Prior to LEARN, Mr. White worked for over 20 years in private equity, banking, and the real estate sectors. White has also served on the board of the Federal Home Loan Bank of Chicago, National Louis University, and Lakefront Supportive Housing.
« Back to events
Upcoming events
Chief Executive Officer
Chicago Public Schools
Tuesday, Dec 5, 2023
Doors Open at 11:30 am / Event Begins at 12:00 pm
Chicago Department of Aviation
Thursday, Dec 14, 2023
Doors Open at 11:30 am / Event Begins at 12:00 pm
City Club of Chicago event tickets are non-refundable. Tickets are transferrable.
Our venues are wheelchair accessible. To request any other accessibility, please contact Amanda Agosti at aagosti@cityclub-chicago.org