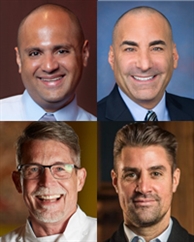 Chicago Gourmet: Food Is Art! Use Your Palate
Serafin Alvarado, Rick Bayless, Kevin Boehm, and Sam Toia
Tuesday, Sep 6, 2016
11:30 a.m. reception/12:00 p.m. luncheon
Location
Maggiano's Banquets
111 W. Grand Avenue
Chicago, IL 60654
Map and directions
Speakers
Serafin Alvarado
Serafin Alvarado's love of wine began more than decade ago, as a room service waiter for Hilton Hotels in his native Puerto Rico. It was the beginning of a career path that would ultimately lead him to achieve the remarkable distinction of becoming a Master Sommelier (M.S.) in 2005, achieving the status that only 105 other North Americans have reached after passing the rigorous M.S. examination. Serafin has also turned his passion for wine into a successful career, working in positions in wine service, wine sales and most recently, wine education, joining Southern Wine & Spirits of Illinois, the largest wine wholesaler in the United States headquartered in Miami, Florida, as Director of Wine Education.
Alvarado's most formative wine experience came after a move to Chicago in 2001 to work alongside Chef Charlie Trotter at his famed restaurant Charlie Trotter's. Alvarado led a team of sommeliers responsible for managing one of the finest restaurant wine programs in America. In October of 2005, Serafin received the Bill Rice distinguished Sommelier of the Year Award for his contribution to the culture of food & wine in the city of Chicago.
Most recently, Crain's Chicago Business Magazine included Serafin Alvarado among 40 outstanding individuals, local to the Chicago area, who have made a major impact in their respective industries before the age of 40. Former winners include professional actors and athletes, presidents and CEOs of major Fortune 500 companies, and high ranking political figures. Today, along with his education responsibilities at Southern Wine & Spirits, Serafin also finds time to teach and mentor Master Sommelier candidates through the program. Mr. Alvarado is also a current Board member for The Guild of Sommeliers and Chair of the Scholarship Committee.
Rick Bayless
Most people know Rick Bayless from winning the title of Bravo's Top Chef Masters, beating out the French and Italian with his authentic Mexican cuisine. The 11th season of his highly rated Public Television Series, Mexico—One Plate at a Time, airs this fall and is broadcast coast-to-coast. In 2012, Rick was nominated for a Daytime Emmy for Best Culinary Host.
Rick has nine cookbooks. His second book, Mexican Kitchen, won the Julia Child IACP cookbook of the year award in 1996, and his fourth book, Mexico—One Plate at a Time won James Beard Best International Cookbook of the Year award in 2001. Fiesta at Rick's spent a number of weeks on the New York Times best seller list.
Rick and his staff established the Frontera Farmer Foundation in 2003 to support small Midwestern farms. Each year, grants are awarded to farmers for capital improvements to their family farms, encouraging greater production and profitability. To date, the Foundation has awarded nearly $2 Million to family farms. In 2007, Bayless and his team launched the Frontera Scholarship, a full-tuition scholarship that sends a Mexican-American Chicago Public School student to Kendall College to study culinary arts. Also in 2007, Rick was named Humanitarian of the Year by the International Association of Culinary Professionals for his many philanthropic endeavors. In 2016, Rick was name the recipient of the prestigious Julia Child Award.
Rick has received a great number of James Beard Award nominations in many categories, and has won six: Midwest Chef of the Year, National Chef of the Year, Humanitarian of the Year, Who's Who of American Food and Drink, plus two for his cookbooks.
The Government of Mexico has bestowed on Rick the Mexican Order of the Aztec Eagle—the highest decoration bestowed on foreigners whose work has benefited Mexico and its people.
Kevin Boehm
After opening 19 successful restaurants, James Beard nominated restaurateur Kevin Boehm has become one of the nation's most successful owner/operators. Kevin, along with partner Rob Katz, have established a restaurant culture built on great chefs, inspired hospitality, and amazing design.
Boehm grew up in Springfield, Illinois and knew at a young age he was destined to be in the restaurant business. After working as a server, he opened his first restaurant in 1992, Lazy Daze Café, in Seaside, Florida. Indigo Wine Bar (Blue Mountain Beach, Florida), Indigo Restaurant (Springfield, Illinois), and Six Degrees (Nashville, Tennessee) followed all before the age of 30.
In 2012, Boehm partnered with Rob Katz to establish Boka Restaurant Group. The pair would open 15 restaurants in less than 14 years: Boka (2003), Landmark (2005), Perennial (2008), Girl & the Goat (2010), GT Fish & Oyster (2011), Perennial Virant (2011), Balena (2012), Elaine's Coffee Call (2012), The J. Parker (2012), Little Goat Bread (2012), Little Goat Diner (2013), Momotaro (2014), Swift & Sons (2015), Cold Storage (2015) and Duck Duck Goat (2016), with GT Prime soon to open in 2016.
The groups many accolades include a James Beard nomination for Girl & the Goat for "Best New Restaurant" in 2011, a win for Stephanie Izard for "Best Chef: Great Lakes" in 2013, and a finalist for "Outstanding Restaurateur" in 2016. "Restaurant of the Year" at the Jean Banchet Awards and "Chef of the Year" for Lee Wolen at the Banchet's and by the Chicago Tribune in 2014.
Boehm and Katz won "Restaurateurs of the Year" from Time Out Chicago in 2010, the Chicago Tribune in 2011, were named "Empire Builders of the Year" by Eater National in 2011, and were James Beard semi-finalists for "Best Restaurateur" in 2015.
Kevin lives in Chicago with his wife and three children.
Sam Toia
Since July 2012, Sam Toia has served as President & CEO of theIllinois Restaurant Association (IRA), a non-profit trade association representing the state's largest private sector employer, with projected employment in 2016 of 537,000 people and over $24.5 billion in annual sales.The IRA owns and produces Chicago Gourmet – the annual food and wine festival held in Millennium Park that unites hundreds of restaurants, chefs and beverage experts and over 14,000 attendees for a weekend filled with food and drink tastings, entertainment, cooking demonstrations, book signings, interactive seminars and more. Toia also serves as trustee of the association's charitable arm, which awards dozens of scholarships annually to area high school students seeking further education in the field. Prior to his election, he served as the IRA's Chairman of the Board.
Toia is a graduate of DePaul University and a specialist in community and government relations. He has served in leadership positions in several civic and public agencies, including participation as an Advisory Board Member of the Counseling Center of Lakeview and on the Board of the Kimbark Plaza Co-Op in Hyde Park. He formerly served as the Chairman/Commissioner of Special Service Area 20- Beverly/Morgan Park (19th Ward), as well as Commissioner of Special Service Area 17-Central Lakeview (44th Ward).
Previously, he was a Board Member for McPier (McCormick Place Navy Pier) from 2003 to 2010, President/Board Member of the Central Lakeview Merchants Association, and on the Board at the Uptown Learning Center. In 2011, Mayor Emanuel named Toia to the Zoning Board of Appeals. Toia was also appointed to the Chicago Sports Commission.
As President & CEO of the IRA, Toia is responsible for managing day-to-day operations of the association, increasing its membership base, developing strategies to enhance its profitability and maintaining positive relations with public officials and state and local agencies. He is passionate about proposed federal, state and local issues affecting the hospitality industry.
« Back to past events
Upcoming events
Featuring remarks from CPS CEO Pedro Martinez
Jadine Chou, Maria Degillo, Daniel Brown, Dr. LaTacia Morgan-Greene and moderated by Walter Katz
Thursday, Sep 28, 2023
Doors Open at 11:30 am / Event Begins at 12:00 pm
moderated by Amy Totsch
Rev. James T. Meeks, Raul Raymundo, Imelda Salazar and Richard Townsell
Tuesday, Oct 3, 2023
Doors Open at 11:30 am / Event Begins at 12:00 pm
City Club of Chicago event tickets are non-refundable. Tickets are transferrable.
Our venues are wheelchair accessible. To request any other accessibility, please contact Amanda Agosti at aagosti@cityclub-chicago.org