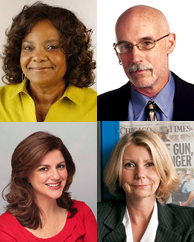 The Votes Are In: What Happens Now?
Dahleen Glanton, Greg Hinz, Natasha Korecki, and Lynn Sweet
Wednesday, Nov 16, 2016
11:30 a.m. reception/12:00 p.m. luncheon
Location
Maggiano's Banquets
111 W. Grand Avenue
Chicago, IL 60654
Map and directions
Speakers
Dahleen Glanton
Dahleen Glanton is a columnist for the Chicago Tribune. Since coming to the Tribune from the Los Angeles Times in 1989, she has held several positions, including Associate Editor on the Metro Desk and Atlanta Bureau Chief. As a reporter, she covered many important issues in Illinois and across the nation, including Hurricane Katrina, military families, the Obama Presidential Center, and national gun laws. A Georgia native, she is particularly interested in issues regarding race, civil rights, and neighborhood violence. Glanton recently took up piano, which helps keep her sane.
Greg Hinz
Greg Hinz is a Crain's Chicago Business blogger and columnist on politics and government in Chicago and the nation. A prize-winning reporter, he also writes frequently on public policy issues such as education, transportation, and economic development. Hinz joined Crain's in 1996, after four years as Political Editor of Chicago magazine and nearly two decades as Political Editor and columnist with the Lerner Newspapers chain. His work has been honored by the Society of Business Editors and Writers and the Chicago Headline Club, among other professional organizations. Hinz is a graduate of Northwestern University's Medill School of Journalism. In 1980, he took a brief leave of absence from journalism to serve as Press Secretary for the Carter/Mondale campaign in Illinois.
Natasha Korecki
Natasha Korecki is the Senior Political Reporter for Politico Illinois and the author of the daily Illinois Playbook. Prior to joining Politico in September 2015, Korecki worked at the Chicago Sun-Times as Chief Political Writer and she also wrote a reporting-based Sunday political column. Before that, she covered federal courts in Chicago during a golden age of political corruption prosecutions, including the criminal trials of two consecutive governors – George Ryan and Rod Blagojevich. She created The Blago Blog, which drew a national following, and is the author of Only in Chicago (Agate) based on the Blagojevich probe and trials. Korecki earned her journalism undergraduate degree from the University of Illinois and currently lives in the Chicago metro area with her husband and two sons.
Lynn Sweet
Lynn Sweet is the Washington Bureau Chief for the Chicago Sun-Times, covering the White House, Congress, and national politics. Named by Washingtonian Magazine as one of the capital's "50 Top Journalists", Sweet appears frequently on CNN, MSNBC, and FOX. Sweet was a fellow at Harvard University's Institute of Politics, and is in the Chicago Journalism Hall of Fame and Northwestern University's Medill Hall of Achievement. She earned a master's degree from the Medill School of Journalism, and she received her undergraduate degree from the University of California at Berkeley after attending the University of Illinois.
« Back to past events
Upcoming events
Cook County Health
Chief Executive Officer
Wednesday, Feb 9, 2022
Doors Open at 12:30 pm / Event Begins at 1:00 pm
Chicago Department of Aviation
Wednesday, Feb 23, 2022
Doors Open at 12:30 pm / Event Begins at 1:00 pm
Please note City Club's COVID-19 in-person event protocols
- All guests must provide proof of full vaccination at check-in
-All guests must remain masked throughout the program
-In lieu of serving lunch, Maggiano's will provide a to-go bag with a complete meal following the conclusion of the event
-Capacity will be reduced to allow more spaces between seats
City Club of Chicago event tickets are non-refundable.
Tickets are transferrable.