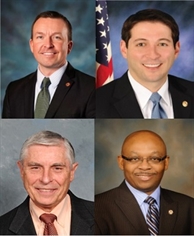 Fixing the Illinois School Funding Formula
moderated by Amanda Vinicky
Featuring Hon. Jason Barickman, Hon. Will Davis, Hon. Andy Manar, and Hon. Bob Pritchard
Tuesday, Aug 15, 2017
11:30 a.m. reception/12:00 p.m. luncheon
Location
Maggiano's Banquets
111 W. Grand Avenue
Chicago, IL 60654
Map and directions
Speakers
Hon. Jason Barickman
Senator Jason Barickman was elected to the Illinois State Senate in 2012, and represents the 53rd Legislative District. He has been a leader in the fight to improve the way schools are funded in Illinois and is currently a member of the Governor's Education Funding Reform Commission.
Previously, he had served in the Illinois House of Representatives since 2011. Senator Barickman has been honored for his work in the Illinois General Assembly from agriculture and business groups, while also participating in the inaugural class of the Edgar Fellows Leadership Program.
Senator Jason Barickman was elected to the Illinois State Senate in 2012, and represents the 53rd Legislative District. He currently serves as the Senate Assistant Republican Leader, Co-Chair of the Legislative Audit Commission, Minority Spokesperson on the Judiciary Committee, and is a member of the Criminal Law, Education, Executive, and Labor committees. He also serves on the Illinois School Funding Reform Commission.
Senator Barickman is a graduate of Illinois State University and the University of Illinois College of Law. He is an attorney with Meyer Capel, P.C., is active in real estate investment and development, and is frequently an adjunct faculty member at Illinois State University.
Senator Barickman was raised on a family farm in Livingston County, and is a proud veteran, having served as an infantry soldier in the Illinois Army National Guard. He and his wife, Kristin, live in Bloomington and have three children.
Hon. Will Davis
Since taking office, Will Davis' top legislative priorities include education funding, increased health care availability and economic development. He understands that small businesses are the backbone of our community and has been a vocal advocate for bringing new jobs to our area.
In 2005, Rep. Davis helped make Illinois the first state in the nation to guarantee access to quality and affordable health care for all children. Working continuously to improve health care, he has supported legislation to address cardiovascular disease, prostate cancer, high blood pressure, diabetes and cancer.
Davis has been recognized with "Legislator of the Year" awards from the Illinois Association of Code Enforcement, Illinois Primary Healthcare Association and Illinois Association of Park Districts.
Davis serves on several committees in the Illinois General Assembly. He is Chairman of both the Appropriations-Elementary & Secondary Education and the Special Committee on Health and Healthcare Disparities. He also serves as a member of the Appropriations-Higher Education and Appropriations-Public Safety committees as well as the International Trade & Commerce, and Labor & Commerce committees.
Davis' 30th District includes all or portions of Blue Island, Dixmoor, Dolton, East Hazel Crest, Flossmoor, Harvey, Hazel Crest, Homewood, Mark ham, Midlothian, Oak Forest, Phoenix, Posen, Riverdale, and Robbins.
He is a member of New Mount Olive Baptist Church and Kappa Alpha Psi Fraternity, Incorporated and is a former Joint Chairman of the Illinois Legislative Black Caucus.
Davis holds a Master of Public Administration Degree from Governors State University and a Bachelor of Arts Degree in Political Science from Southern Illinois University (SIU) at Carbondale. Davis was born on July 2, 1968 in Harvey, Illinois Davis is happily married to his wife Jaclin and the proud father of a son, Chazz, and daughter, Jana.
Hon. Andy Manar
As the current State Senator representing the 48th District in the General Assembly, Andy Manar is leading the charge to overhaul our state's outdated school funding formula, sponsoring bipartisan legislation to make sure every child has access to a quality education regardless of their ZIP code. He also reformed the state's lead economic development agency to make it more accountable. Manar's plan forces the state to prioritize investment in places hit hardest by the recession and makes sure money actually goes toward creating and retaining jobs in Illinois.
Before becoming a member in the General Assembly, Manar served as a Bunker Hill city councilman, Mayor of Bunker Hill and eventually Macoupin County Board chairman. He was encouraged and inspired to enter public service by the late Senator Vince Demuzio.
While serving his community at the local level, Manar advocated fiscal responsibility, bipartisan cooperation, increased communication between taxpayers and elected officials and made job creation one of his top priorities.
Manar holds a Bachelor of Arts degree in history from Southern Illinois University Edwardsville. He also maintains Illinois teacher certification and, belongs to numerous civic and charitable organizations. Born and raised in Macoupin County, Manar and his wife, Trista, reside three blocks from where he grew up in Bunker Hill. Together they have three children: Abbie, Will and Ben.
Hon. Bob Pritchard
Bob Pritchard has been a state representative since 2003 now serving portions of DeKalb, Kane and Boone Counties. During his tenure he has been a strong advocate for growing the economy, fiscal responsibility and an educated workforce.
He grew up on a farm near Hinckley and continues to participate in the family business with his son. During his career Bob was a radio-TV farm broadcaster, university consultant, and communications director for DeKalb Genetics/Monsanto international seed business.
As a legislator he serves as Republican spokesman on three House committees and has specialized in educational issues. He is a member of the PK-20 Education Council and served on the Governor's school finance reform commission. Bob encourages citizen involvement in public issues through his advisory councils, local meetings, and weekly electronic newsletters.
Bob and his wife Mary, a retired university educator, have two sons and 4 grandchildren.
Amanda Vinicky
After a decade as statehouse bureau chief for Illinois Public Radio/NPR Illinois, Amanda Vinicky recently joined WTTW-TV's "Chicago Tonight" as a correspondent focused on covering Illinois government and politics. Her work has garnered honors from the Chicago Headline Club, the Associated Press, and the Association of Capitol Reporters and Editors. Vinicky graduated from the University of Illinois Springfield's Political Affairs Reporting Program—which she is happy to speak with any aspiring journalists about it—and holds degrees in journalism and politics from the University of Illinois Urbana-Champaign. Though Vinicky hails from La Grange, she's living in Chicago for the first time and welcomes recommendations for distinctive restaurants, places or events she should check out in the city. You can find her on twitter @AmandaVinicky, where you'll learn of her love for hot sauce and mustard, and always feel free to drop her a line with a hot story tip, too
« Back to past events
Upcoming events
City of Chicago Inspector General Joseph Ferguson, Chicago Board of Education Inspector General Nicholas Schuler, Cook County Inspector General Patrick Blanchard
Wednesday, Jul 18, 2018
11:30 a.m. reception/12:00 p.m. luncheon
moderated by George Papajohn
Gary Marx, David Jackson, Jennifer Smith Richards, Juan Perez, Jr.
Tuesday, Jul 24, 2018
11:30 a.m. reception/12:00 p.m.
Events sell out quickly!
Don't miss an event. Keep up with the City Club of Chicago.