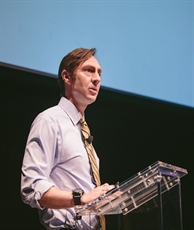 Crime in Chicago: Beyond the Headlines
Jens Ludwig
UChicago Crime Lab
Monday, Jan 29, 2018
11:30 a.m. reception/12:00 p.m. luncheon
Location
Maggiano's Banquets
111 W. Grand Avenue
Chicago, IL 60654
Map and directions
Speakers
Crime in Chicago
Between 2015 and 2016, homicide rates in Chicago increased by nearly 60%, undoing much of the progress the city made in reducing crime over the past 25 years since the peak of the crack cocaine epidemic in the early 1990s. What happened to crime rates in 2017? Has the problem gotten better or worse over the past year? What solutions have been tried, and how effective have they been?
Jens Ludwig
Jens Ludwig is the McCormick Foundation Professor at the University of Chicago and the Director of the University of Chicago Crime Lab. In 2008, Ludwig helped found the Crime Lab to partner with policymakers in Chicago and around the country to carry out large-scale policy experiments to identify more effective (and humane) ways to prevent crime and violence, and reduce the harms associated with the criminal justice system. Crime Lab studies have led to new policy initiatives in a number of cities, have been published in leading peer-reviewed scientific journals, and have received coverage in major news outlets such as The New York Times and The Wall Street Journal. The Crime Lab is a past recipient of a $1 million MacArthur Award for Creative and Effective Institutions. In 2012, Ludwig was elected to the Institute of Medicine of the National Academies of Science.
« Back to past events
Upcoming events
Monday, Dec 17, 2018
11:30 a.m. reception/12:00 p.m. luncheon
Chicago Mayoral Candidate
Tuesday, Dec 18, 2018
7:30 a.m. reception/8:00 a.m. breakfast
Events sell out quickly!
Don't miss an event. Keep up with the City Club of Chicago.