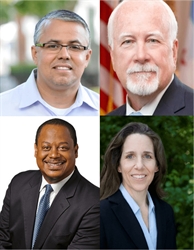 Diversity & Fairness in the City of Chicago Contract Awards
moderated by Rosemary Swierk
Hon. Patrick O'Connor, Hon. Roderick Sawyer, Hon. Gilbert Villegas
Tuesday, May 1, 2018
11:30 a.m. reception/12:00 p.m. luncheon
Save to calendar
$35.00 Member
$35.00 Member Guest (Join now!)
$50.00 Non-member (Join now!)
$750.00 Sponsor
Register now Seating is limited
Location
Maggiano's Banquets
111 W. Grand Avenue
Chicago, IL 60654
Map and directions
Speakers
Hon. Patrick O'Connor
Patrick J. O'Connor has been fighting for the people of Chicago for over 30 years as Alderman of the 40th Ward, representing the city's 40th Ward in the City Council since 1983.
O'Connor has used his abilities as a lawyer, community leader and alderman to advocate for change and to improve Chicago's public school system; create new jobs and promote economic development; improve the vast health care system of the City; keep neighborhoods safe; and rebuild Chicago's infrastructure. O'Connor has worked with the residents of the 40th Ward in securing millions of dollars which were needed to build and rehab schools; acquire, build and rehab parks as well as build a new library, firehouse and police stations. Over the past 30 years O'Connor has instituted Town Hall Meetings in which he goes out into the various communities to hear and address concerns of neighborhood residents.
During his time in City Council, Pat has held numerous leadership positions. For over 20 years, O'Connor served as the Chairman of the Committee on Education and Child Development, where he worked on Chicago's public school reform movement. Early on O'Connor recognized the relationship between quality public education and the economic development of the City.
Nationally recognized as a leader in public education, Pat O'Connor has received countless awards from teachers and school administrators alike. In his first year as Education Chairman, O'Connor was a key figure in negotiating a settlement to the longest teachers' strike in more than three decades. He has established a reputation for bipartisanship and an ability to find new solutions to longstanding problems.
O'Connor was instrumental in bringing Northside College Prep, a high school which has quickly distinguished itself academically as the top high school in the state, to the 40th Ward. His efforts as an advocate for education funding in Illinois' capital have resulted in better pay for teachers and an unprecedented period of cooperation between the Chicago Board of Education and labor unions that serve the school children of Chicago.
O'Connor was one of the founding members of the National League of Cities Institute on Youth Education and Families, headquartered in Washington, D.C. Pat later served as Chairman of Traffic Control and Safety from 2008 – 2011. In 2011, O'Connor became Chairman of the newly created Workforce Development and Audit Committee, focusing its efforts on the city's labor force and regulations affecting labor. This committee deals with oversight of the numerous workforce issues which exist within the City, working to create a more efficient and cost effective city government.
He also serves as vice-chair for the Committee on Finance and is an active member of the Aviation, Budget and Government Operations, Education and Child Development, and Rules and Ethics Committees. O'Connor believes that focusing on economic development, jobs, education, infrastructure, and health care promotes not only the development and health of the City of Chicago, but also ensures that every citizen has the ability to provide for their family and maintain a great quality of life.
O'Connor, a lifelong resident of the 40th Ward, graduated from Mather High School in Chicago and earned his B.A. and law degrees from Loyola University of Chicago. He is the proud husband of Barbara; father of five children, and four grandchildren. He is integrally engaged in his neighborhood, church, civic and community organizations and activities.
Hon. Roderick T. Sawyer
Alderman Roderick T. Sawyer was sworn in as Alderman of the 6th Ward in May of 2011. Chicago's 6th Ward represents the Chatham, Chesterfield, Englewood, Greater Grand Crossing, Park Manor and Auburn-Gresham neighborhoods. In March of 2012 he also became the Democratic Committeeman of the 6th Ward, which is a part of the Cook County Democratic Party.
Alderman Sawyer, who was re-elected in February, 2015 presides as Chairman of the City Council Black Caucus is an active member of the City Council Committees on Education and Child Development, Human Relations, License and Consumer Protection, Pedestrian and Traffic Safety, Special Events, Cultural Affairs and Recreation (Vice-Chairman), Rules and Ethics, Finance and Budget and Government Operations. Alderman Sawyer prides himself on being independent and working for what is in the best interest of his community.
He remains fully committed to strong neighborhoods as he is an active participant in all of the 6th Ward Community Organizations, Resident Association of Greater Englewood (R.A.G.E.), Park Manor Neighbors Community Council, Chatham Avalon Park Community Council, Greater Chatham Alliance, Chesterfield Community Council, West Chesterfield Community Council and Roseland Heights Community Council.
Alderman Sawyer practiced law at the Law Office of Roderick T. Sawyer where he became an expert at licensing issues. Alderman Sawyer uses his legal expertise to promote economic development in his community and to combat problem businesses.
Presently, Alderman Sawyer is on the Board of Directors of the South Shore Drill Team, eta Creative Arts Foundation, Meyering Park Advisory Council and Board of Trustees at St. Mark A.M.E. Zion Church. Since his election in 2001, Alderman Sawyer has served on McDade Classical School's Local School Council as a member and former Chairman. Every year he co-chairs a fundraiser, which raises monies for a scholarship fund that provides financial assistance for disadvantaged African-Americans who attend his high school alma mater.
In 1981, he graduated from St. Ignatius College Prep and four years later, he earned a Bachelor of Science in Finance from DePaul University. He received a Juris Doctorate from IIT-Chicago Kent College of Law in 1990 and was admitted to the Illinois State Bar in the same year.
In his spare time, Alderman Sawyer enjoys deejaying as an amateur music mixologist, playing basketball, softball and dominoes. Roderick is married to Cheryll and they have two children, Sydni Celeste and Roderick T. Jr.
Hon. Gilbert Villegas
Alderman Gilbert Villegas has spent his entire career serving others. Since being honorably discharged from the Marines, he has served in government, non-profits, and for profit companies, each time successfully bringing new opportunities to businesses and employees.
Since being elected in 2015 to the Chicago's City Council, Alderman Villegas has introduced and passed legislation that focuses on providing opportunities for Minority, Women and Veteran Owned businesses. Most recently, Alderman Villegas led the charge to ensure that with the passage of the $8.5 billion dollar O'Hare modernization plan included an Oversight Commission that combines the efforts of the Latino Caucus and Black Caucus to ensure hiring practices represent the diversity of Chicago.
Alderman Villegas currently serves as the Chairman of both the Latino and Veteran Caucuses. In these roles, he has ensured that both communities are represented within the City through employment and contractual opportunities. Alderman Villegas created the first municipal Veteran Caucus in the United States and has recently worked with his colleagues to create a Veteran Business Enterprise program to offer the same bid incentives previously offered to Minority and Woman owned businesses.
Alderman Villegas served as Chief of Staff position at the Illinois Capital Development Board, where he oversaw a staff of 140 State personnel, a $25 million operating budget and a $3.9 billion dollar capital construction program. As the construction management agency for Illinois state government, the Capital Development Board (CDB) oversees the construction of new state facilities and renovation and rehabilitation of the State's 500 plus state-owned buildings containing more than 96 million square-feet of floor space.
Prior to the Capital Development Board, Alderman Villegas served as Associate Director of the Hispanic American Construction Industry Association (HACIA). At HACIA he oversaw Government Affairs for the organization and spearheaded the development and lobbying efforts behind passage of two instrumental Illinois Senate Bills –SB351 and SB3249, ensuring minority and women owned businesses have a principal opportunity to participate on state funded projects. Alderman Villegas successfully created the Minority Contractor Training Program, which trained over 300 businesses that sought to perform on federally and state funded infrastructure projects.
Prior to joining HACIA, Alderman Villegas served as the Deputy Director of the Office of Business and Workforce Diversity at the Illinois Department of Transportation,ensuring minority owned businesses were able to participate in the $2.2 billion dollar infrastructure program. As the Deputy Director he oversaw two departments: the Bureaus of Small Business Enterprises and the statewide District Equal Employment Opportunity Contract Compliance Officers.
Alderman Villegas is a U.S. Marine, and served during Operations Desert Shield and Desert Storm. Alderman Villegas was assigned to the 2nd Light Anti-Aircraft Missile (LAAM) Battalion in Yuma, Arizona prior to his deployment. After being honorably discharged, heattended Northeastern Illinois University where he studied Political Science.
Alderman Villegas currently represents the 36th Ward, which is located on the City's Northwest Side encompassing the diverse neighborhoods of Belmont Cragin, Dunning – Schorsch Village, Hermosa, Montclare, and Portage Park. He sits on six committees: Aviation, Rules and Ethics, Economic, Capital and Technology Development, Health and Environmental Protection, Pedestrian and Traffic Safety, and Transportation and Public Way.
Previously, Alderman Villegas has served on the Steinmetz College Preparatory LSC, Shabbona and Bell Park Advisory Councils, ALL Chicago Board to end homelessness, ELITE Veteran Owned Small Business Advisory Board and the Illinois Legislative Latino Caucus Foundation.
Rosemary Swierk
Rosemary Swierk is founder and president of Direct Steel and Construction, a general contracting and construction management firm. Swierk holds a Bachelor of Science from Indiana University, a Dartmouth "Tuck" Executive Degree and the Goldman Sachs 10,000 Small Business Certificate. She has decades of experience in real estate development and construction. Additionally, she contributes her time in several community initiatives.
Swierk has received recognition for her accomplishments from many organizations including Manufacturers, Department of Commerce and Economic Opportunity, Today's Chicago Woman magazine, Athena International, Small Business Administration and theChicago Sun-Times. Swierk is also the recipient of the 28th annual Entrepreneur of the Year award from the national Women's Business Development Center. Additionally, she is a State of Illinois appointee to the Small Business Development Center advisory board.
« Back to events
Upcoming events
John Kass, Michelle Garcia, Juan Padilla
Monday, Apr 30, 2018
11:30 a.m. reception/12:00 p.m. luncheon
moderated by Wendy DuBoe
Charles Matthews, Robert G. Reiter, Jr., Darnell Shields
Wednesday, May 2, 2018
11:30 a.m. reception/12:00 p.m. luncheon
Events sell out quickly!
Don't miss an event. Keep up with the City Club of Chicago.