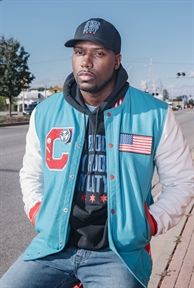 Jahmal Cole
My Block, My Hood, My City
Founder & CEO
Wednesday, Jul 8, 2020
11:00 AM
Virtual Event
This virtual event will be held online using our new interactive platform. In order to watch this event, you must be registered for the event and must be signed in to your City Club of Chicago account. If you have additional questions, please go to our helpful FAQ page.
Speaker
Jahmal Cole
A champion of social justice, Jahmal Cole's mission is to build a more interconnected Chicago on the pillars of service and education.

As the founder and CEO of the city's fastest growing social impact organization, My Block My Hood My City, Jahmal is the creator of an exposure-based education program for teens and a network of volunteer initiatives that serve Chicago communities year-round.

Traveling, youth mentorship and community organizing are the subjects of Jahmal's highly acclaimed books and speeches. He has spoken to audiences ranging from high school students to the Mayor of Chicago.

In 2019, Jahmal Cole was named to Crain's 40 under 40, he's also the recipient of the 2019 Champion of Freedom Award, the 2018 Chicago Defender Men of Excellence Honoree, and the 2018 Chicago City Council Resolution Award. In 2018, he was also named one of the "20 Most Inspiring Chicagoans" by Streetwise Magazine and a Chicagoan of the Year by Chicago Magazine.
« Back to past events
Upcoming events
Cook County Health
Chief Executive Officer
Wednesday, Feb 9, 2022
Doors Open at 12:30 pm / Event Begins at 1:00 pm
Chicago Department of Aviation
Wednesday, Feb 23, 2022
Doors Open at 12:30 pm / Event Begins at 1:00 pm
Please note City Club's COVID-19 in-person event protocols
- All guests must provide proof of full vaccination at check-in
-All guests must remain masked throughout the program
-In lieu of serving lunch, Maggiano's will provide a to-go bag with a complete meal following the conclusion of the event
-Capacity will be reduced to allow more spaces between seats
City Club of Chicago event tickets are non-refundable.
Tickets are transferrable.