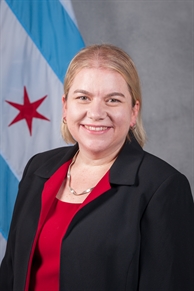 Dr. Allison Arwady
Chicago Department of Public Health
Commissioner
Thursday, Jul 23, 2020
Remarks begin at 11:00 AM
Virtual Event
This virtual event will be held online using our new interactive platform. In order to watch this event, you must be registered for the event and must be signed in to your City Club of Chicago account. If you have additional questions, please go to our helpful FAQ page.
*Please note new date*
Speaker
Dr. Allison Arwady
Dr. Allison Arwady, MD, MPH, is the Commissioner of the Chicago Department of Public Health (CDPH). Dr. Arwady started at CDPH in 2015 and served as Chief Medical Officer before being confirmed by the City Council as Commissioner in January, 2020. As Chief Medical Officer she oversaw the disease control, environmental health, emergency preparedness, and behavioral health divisions. She has worked on disease outbreaks, immunization promotion, tuberculosis response, lead poisoning prevention, substance misuse, and more. Prior to CDPH, she worked for the U.S. Centers for Disease Control and Prevention (CDC) as an Epidemic Intelligence Service officer. In that role, she focused on outbreak response, including international work on Ebola and Middle East Respiratory Syndrome. While based at the Illinois Department of Public Health, she responded to disease outbreaks across the state. She has a bachelor's degree from Harvard University, a master's degree in public health from Columbia University, and completed medical school and clinical training at Yale University. She is a board-certified internal medicine physician and pediatrician, and continues to see primary care patients weekly."
« Back to past events
Upcoming events
Cook County Board of Commissioners
Thursday, Jan 20, 2022
Doors Open at 12:30 pm / Event Begins at 1:00 pm
Pritzker Director, University of Chicago Crime Lab
Gun Violence in Chicago (and what could have been)
Wednesday, Jan 26, 2022
Doors Open at 12:30 pm / Event Begins at 1:00 pm
Please note City Club's COVID-19 in-person event protocols
- All guests must provide proof of full vaccination at check-in
-All guests must remain masked throughout the program
-In lieu of serving lunch, Maggiano's will provide a to-go bag with a complete meal following the conclusion of the event
-Capacity will be reduced to allow more spaces between seats
City Club of Chicago event tickets are non-refundable.
Tickets are transferrable.