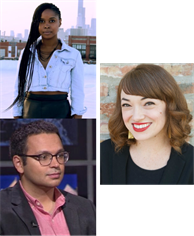 Chicago's Evolving Media Landscape: Trends in 2020
Morgan Elise Johnson, Gregory Pratt & Jen Sabella
Monday, Aug 17, 2020
Remarks begin at 11:00 AM
Virtual Event
This virtual event will be held online using our new interactive platform. In order to watch this event, you must be registered for the event and must be signed in to your City Club of Chicago account. If you have additional questions, please go to our helpful FAQ page.
Speakers
« Back to past events
Upcoming events
Reimagining Public Safety
Wednesday, Sep 23, 2020
Remarks begin at 11:00 AM
David Greising
President and CEO, Better Government Association
Wednesday, Sep 30, 2020
Remarks begin at 11:00 AM
City Club of Chicago event tickets are non-refundable. Tickets are transferrable.