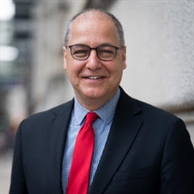 Ready for Reform? The Path to Honest Government in Illinois
David Greising
President and CEO, Better Government Association
Wednesday, Sep 30, 2020
Remarks begin at 11:00 AM
Virtual Event
This virtual event will be held online using our new interactive platform. In order to watch this event, you must be registered for the event and must be signed in to your City Club of Chicago account. If you have additional questions, please go to our helpful FAQ page.
This virtual event requires advanced registration.
VIRTUAL EVENT SPONSORSHIP - $500
- Company Name listed on sponsor slide before and after program
- Sponsors are thanked by moderator at start and end of program
- Company name listed on follow up email to all City Club subscribers showcasing event video the following business day
- Company thanked and acknowledged using various social media platforms
Speaker
David Greising
David Greising is the president and chief executive of the Better Government Association, joining the BGA in 2018. For nearly a century, the BGA has fought for honest and effective government through investigative journalism and policy advocacy.
Greising's career started at the City News Bureau of Chicago, with stops at the Chicago Sun-Times, Business Week magazine, the Chicago Tribune and Reuters. He was a co-founder of the Chicago News Cooperative and worked briefly as a consultant to World Business Chicago. Today, Greising writes on government issues in regular columns for the Tribune and Crain's Chicago Business.
Under Greising's leadership, the BGA has played a key role in uncovering public corruption amidst the wide-ranging federal probe, starting with an in-depth report about Ald. Ed Burke's conflicts of interest before the federal charges against Burke. The BGA also has exposed waste and fraud at O'Hare and the proliferation of corruption and poverty into Dalton, Lyons and other Chicago suburbs. The BGA's policy team has led calls for ethics reform in Chicago's City Council and in state government.
« Back to past events
Upcoming events
Chief Executive Officer
Chicago Public Schools
Tuesday, Dec 5, 2023
Doors Open at 11:30 am / Event Begins at 12:00 pm
moderated by Andrew Broy
Macke Raymond, Constance Jones and Greg White
Tuesday, Dec 12, 2023
Doors Open at 11:30 am / Event Begins at 12:00 pm
City Club of Chicago event tickets are non-refundable. Tickets are transferrable.
Our venues are wheelchair accessible. To request any other accessibility, please contact Amanda Agosti at aagosti@cityclub-chicago.org