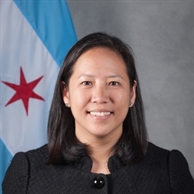 Jennie Huang Bennett
Chief Financial Officer
City of Chicago
Monday, Nov 14, 2022
Doors Open at 11:30 am / Event Begins at 12:00 pm
Location
Maggiano's Banquets
111 W. Grand Avenue
Chicago, IL 60654
Map and directions
Speaker
Jennie Huang Bennett
Jennie Huang Bennett serves as the City of Chicago's Chief Financial Officer. Previously the Chief Financial Officer for Chicago Public Schools (CPS), Ms. Bennett has extensive experience in managing financial turnarounds, driving cost efficiencies, managing large complex capital structures, developing governmental budgets, generating revenues through creative solutions, and finding paths toward financial stability.
Bennett has a wide range of both public sector and private sector experience. She helped lead CPS through significant financial difficulties, which have now been relieved through new, fairer educational funding. She has also served as CPS's acting Chief Internal Auditor since 2018 and Treasurer from 2012-2016.
Prior to CPS, Bennett spent over a decade as a senior investment banker in municipal securities, managing post-recovery financing needs for New York after 9/11 and Mississippi after Hurricane Katrina, large water and wastewater financings and acquisitions, stadium financings, financings for higher educational institutions as well as various types of other municipal financings.
« Back to past events
Upcoming events
Paul Vallas will discuss his plan for creating a permanent, standing infrastructure for equitable, community-led economic development centered in historically disinvested parts of the city.
Tuesday, Jan 31, 2023
Doors Open at 11:30 am / Event Begins at 12:00 pm
moderated by Laura Washington
Roseanna Ander, Mecole Jordan-McBride, Mike Milstein, Andrew Papachristos
Wednesday, Feb 1, 2023
Doors Open at 11:30 am / Event Begins at 12:00 pm
City Club of Chicago event tickets are non-refundable. Tickets are transferrable.
Our venues are wheelchair accessible. To request any other accessibility, please contact Amanda Agosti at aagosti@cityclub-chicago.org