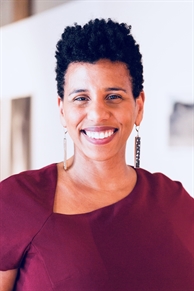 Commissioner Erin Harkey
Chicago Department of Cultural Affairs and Special Events
Friday, May 12, 2023
Doors Open at 11:30 am / Event Begins at 12:00 pm
Location
Maggiano's Banquets
111 W. Grand Avenue
Chicago, IL 60654
Map and directions
Speaker
Commissioner Erin Harkey
Erin Harkey is the Commissioner of the Chicago Department of Cultural Affairs and Special Events (DCASE) — appointed to the post by Mayor Lori E. Lightfoot in November 2021. She holds 20 years of experience working in the nonprofit and government sector helping individuals and communities succeed through the arts.
Harkey has served the City of Chicago since 2016 as Projects Administrator, then Deputy Commissioner for Programming, then First Deputy Commissioner and most recently as Acting Commissioner at DCASE, following the retirement of Mark Kelly. In her dual role as Senior Policy Advisor for Arts in Culture in the Mayor's Office, she advised on cultural policy and arts strategy across all City departments and agencies. She previously managed public art programs at Los Angeles County Arts Commission and the Arts Council for Long Beach. Harkey holds two master's degrees in Public Art Administration and Urban Planning from the University of Southern California (USC) and a bachelor's degree in Marketing from Howard University.
« Back to past events
Upcoming events
Featuring remarks from CPS CEO Pedro Martinez
Jadine Chou, Maria Degillo, Daniel Brown, Dr. LaTacia Morgan-Greene and moderated by Walter Katz
Thursday, Sep 28, 2023
Doors Open at 11:30 am / Event Begins at 12:00 pm
moderated by Amy Totsch
Rev. James T. Meeks, Raul Raymundo, Imelda Salazar and Richard Townsell
Tuesday, Oct 3, 2023
Doors Open at 11:30 am / Event Begins at 12:00 pm
City Club of Chicago event tickets are non-refundable. Tickets are transferrable.
Our venues are wheelchair accessible. To request any other accessibility, please contact Amanda Agosti at aagosti@cityclub-chicago.org