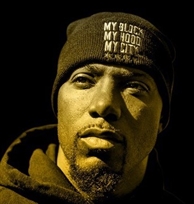 Jahmal Cole
CEO & Founder
My Block My Hood My City
Wednesday, Jun 28, 2023
Doors Open at 11:30 am / Event Begins at 12:00 pm
Location
Maggiano's Banquets
111 W. Grand Avenue
Chicago, IL 60654
Map and directions
Speaker
Jahmal Cole
A champion of social justice, Jahmal Cole's mission is to build a more interconnected Chicago on the pillars of service and education.
As the founder and CEO of the city's fastest growing social impact organization, My Block My Hood My City, Jahmal is the creator of an exposure-based education program for teens and a network of volunteer initiatives that serve Chicago communities year-round.
Traveling, youth mentorship and community organizing are the subjects of Jahmal's highly acclaimed books and speeches. He has spoken to audiences ranging from high school students to the Mayor of Chicago.
In 2022 Jahmal Cole received an honorary Doctorate Degree in Humanities and Philanthropy from Adler University and was voted best activist by the Chicago Reader. Jahmal was named one of the 25 Most Powerful Chicagoans by Crain's Magazine. He has also been awarded the 2020 American Red Cross Community Impact Hero Award. In 2019, Jahmal Cole was named to Crain's 40 under 40, he's also the recipient of the 2019 Champion of Freedom Award, the 2018 Chicago Defender Men of Excellence Honoree, and the 2018 Chicago City Council Resolution Award. In 2018, he was also named one of the "20 Most Inspiring Chicagoans" by Streetwise Magazine and a Chicagoan of the Year by Chicago Magazine. He was recently voted 2021 Activist of the Year by Chicago Magazine!
« Back to past events
Upcoming events
Chief Executive Officer
Chicago Public Schools
Tuesday, Dec 5, 2023
Doors Open at 11:30 am / Event Begins at 12:00 pm
moderated by Andrew Broy
Macke Raymond, Constance Jones and Greg White
Tuesday, Dec 12, 2023
Doors Open at 11:30 am / Event Begins at 12:00 pm
City Club of Chicago event tickets are non-refundable. Tickets are transferrable.
Our venues are wheelchair accessible. To request any other accessibility, please contact Amanda Agosti at aagosti@cityclub-chicago.org