Jose Sanchez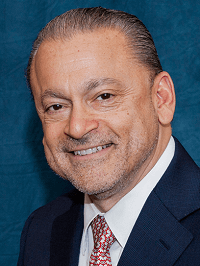 José R. Sánchez, President and Chief Executive Officer of Norwegian American Hospital, is Chicago's only Latino hospital CEO. Sánchez has a 30-plus year career as a health care executive and possesses a wealth of knowledge of the health care industry.

As President and CEO of Norwegian American Hospital, Sánchez is dedicated to enhancing the quality of services provided to more than 112,000 patients annually. Among his first priorities was to lead the management executive team to critically assess and refine the quality of all systems, structures and services that are currently in place. Sánchez is committed to pursuing collaborative and innovative solutions to combat the health care challenges of the communities the hospital serves: Humboldt Park, West Town, Wicker Park, Logan Square and Austin.

Before joining Norwegian American Hospital, Sánchez was the Senior Vice President of the Generations +/Northern Manhattan Health Network, the largest health care networks in the New York City Health and Hospitals Corporation. During his tenure, he oversaw three acute care hospitals of which two were level one trauma centers, and 34 community-based health centers in East Harlem, Central Harlem and the South Bronx in New York City.

Sánchez has been a licensed social worker since 1979. He holds a Bachelor of Arts degree in Psychology from the City College of New York and a Master of Social Work from Adelphi University. In 2002, he was conferred an honorary doctorate degree from the New York College of Podiatric Medicine. This honor recognized his measurable accomplishments and steadfast commitment to improving the health status of the poorest and most disadvantaged populations in New York City.
Recently José R. Sánchez has been named by Governor Pat Quinn to the State Health Improvement Plan (SHIP) Implementation Coordination Council and the Budgeting for Results Commission. Mr. Sánchez is one of 24 appointees who work collaboratively with the Governor's Health Care Reform Implementation Council to promote state-wide improvements in public health. Mr. Sánchez also serves on the boards of the following: Illinois Hospital Association, Puerto Rican Arts Alliance and the City Club of Chicago. In addition, he is a member of the Board of Boricua College in New York. The college was designed to serve the educational needs of Puerto Ricans and other Hispanics. He also serves as Chairman of the East Harlem Business Capital Corporation Board of Directors, which provides microlending and business development services for community businesses. In October 2009, Sánchez was named among the "Most Influential Latinos" in the United States by Hispanic Business Magazine; a New York Times Co. syndicated publication.
Sánchez is the architect of the Urban Health Conference, an annual national forum in existence since 2001 that brings together more than 300 health care providers to focus on the disparities in health care for minority populations and strategies to eliminate them.