Omar Daghestani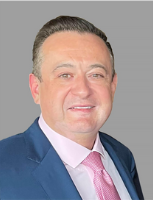 Omar Daghestani, 49, Managing Director and Manager, leads Stifel's #1 ranked national pension practice (43% market share over past 3 years) and manages the firm's Chicago, New York and Boston offices. Omar has senior managed $28.8 billion in issues nationally over the course of his career, three of which were awarded Deal of the Year by The Bond Buyer and one by Smith's Research.
Strengthening public sector pensions has been a passion for Omar over the past two decades. Omar has been invited to serve on numerous State, City and County pension task forces and legislative initiatives. His first transaction, the State of Wisconsin's $1.79 billion General Fund Annual Appropriation Bonds issue in 2003, set the national analog for best practice and Wisconsin that remains the only consistently fully funded state pension plan nationally. Omar and his team have led more financings than anyone in the nation with 42 transactions, $2.47 billion in the past three years alone with a strong focus on activity in Arizona, West Virginia, Massachusetts and the Midwest.
Omar has also worked extensively on new municipal pension innovations in the State of Arizona, through Senate Bill 1082, the first state-level framework which allows local employers to prefund their share of the proportionate unfunded liability into the Arizona State Retirement System. Omar also worked with the State of West Virginia to codify pension best practice in West Virginia through HB 4756 and was invited to the bill signing with Governor Justice and the sponsoring delegates.
Mr. Daghestani is a regular speaker at industry conferences has lectured at the Kennedy School for 16 years on the topic of pension liability management. More recently, he has been invited by the University of Chicago's Harris School to lecture on pensions.
Serving the community, particularly underserved communities, is central to Omar's daily life, with highlights as below:
Governing Board Director, Chicago Children's Advocacy Center
Governor & Treasurer; City Club of Chicago
Executive Committee & Director, Civic Federation of Chicago
Director, Chicago Summer Business Institute
Past-President, Glenview Park Foundation
Class Reunion Co-Chair (5, 10, 15 and 20 year), Harvard University, Kennedy School
Omar received a B.A. with Honors in Economics (Phi Beta Kappa) from Northwestern University where his thesis, "Redlining in Chicago: A Predictive Model of Home Mortgage Origination" was recognized with the William Henry Exum Paper Award by the Department of African American Studies. Omar earned an M.P.P. from Harvard University's Kennedy School of Government, where he was twice elected Student Body President. Most recently, Omar was recognized by Crain's Chicago Business with the 2023 Crain's Notable Leaders in Finance award. He is married to his wife Cathleen and they have an 11 year old son.